Transforming a dual site orthopaedic department to assist with the coronavirus pandemic: our experience
22 Jun 2020
Mr Nikhil Nanavati and Dr Nirav Vyas
Mr Nikhil Nanavati is a Senior Orthopaedic Foot and Ankle Fellow at Leicester University Teaching Hospitals NHS Trust and Dr Nirav Vyas is a Foundation Year 2 Doctor. Along with their colleagues: Mr Jitendra Mangwani, Consultant Orthopaedic Foot and Ankle Surgeon; Mr Aamer Ullah, Consultant Orthopaedic Hand and Wrist Surgeon; and Dr Vipul Kaushik, Lead Consultant Anaesthesia and Critical Care; Mr Nanavati and Dr Vyas discuss the ways in which they have adapted their department to manage the coronavirus pandemic.
Orthopaedic services in Leicester are normally managed across two separate sites; trauma at Leicester Royal Infirmary (LRI) and elective work at Leicester General Hospital (LGH). Due to the coronavirus pandemic, numerous changes had to be implemented quickly to provide a safe and efficient service, while ensuring that essential trauma care could be provided to this vulnerable patient group to the highest possible standards. We share the ways in which we adapted our department to work as part of a team within the University Hospitals of Leicester NHS Trust.
Relocating the trauma service to a different hospital site
A plan was made to transfer the trauma patients from LRI to LGH to increase the bed base and to support an increasing number of trauma patients. All elective orthopaedic work ceased initially at LGH, to allow a concurrent increase in the ICU bed capacity to deal with the surge and to meet the demands of sick patients when we hit the peak of the pandemic. Simultaneously, we continued to prepare to provide transfer and treatment for the trauma patients in phases. Phase one involved discharging the current elective patients and subsequently transferring the stable postoperative trauma patients – excluding the neck of femur (NOF) fractures. In phase two, the postoperative NOF fracture patients were transferred over. In phase three, once trauma theatres were set up at LGH, the preoperative patients were transferred from LRI and all new admissions were redirected after being clerked by the orthopaedic registrar. Since the Accident and Emergency department was located at LRI, we also continued to maintain a skeleton trauma service there to deal with emergencies.
Alongside patients, trauma kits for the theatre were also transferred. We were cognisant that some larger objects would be somewhat challenging to relocate. To ensure a safe transfer of the Jackson Table, we requested community support via our local radio station, BBC Radio Leicester. This is the first time that we have received community support in this way, and it enabled us to arrange sponsored transport of the table between both of our hospital sites. In line with the new British Orthopaedic Association (BOA) guidance, it was imperative that we were able to fully utilise limited resources to minimise harm to patients whilst also optimising their orthopaedic care.
All essential diabetic services and provision of x-rays for musculoskeletal problems were transferred to community hospital sites to reduce the burden at the main teaching hospital site. Essential cancer or soft tissue surgery that could be performed under local anaesthetic was also transferred to community hospitals to minimise the potential delay of such treatment.
Role changes throughout the whole team
A proactive decision was made to pair the orthopaedic consultants who delivered elective surgery with colleagues who regularly performed trauma surgery, allowing them to galvanise their trauma operating skills and improve senior presence for timely orthopaedic review. We had a very cohesive relationship with our anaesthetic team and their early involvement helped us plan perioperative management of the patients. There was a range of skill sets within the theatre staff, which we utilised to our advantage to provide efficient care. Although some of the elective team were unfamiliar with the trauma kits, there was some overlap in equipment knowledge. The trauma team were familiar with the specific kits and were able to teach the elective teams about their uses. In return, the elective teams were able to assist with the storage and set up of equipment, as they had a better working knowledge of the theatre environment at the second site. To ensure they became familiar with the trauma kits, the elective theatre staff were paired to shadow the trauma theatre staff. This later proved to be vitally important as staff sickness would be covered without impacting on service delivery. Recovery staff were instrumental in adapting in their roles to care for patients with either suspected or confirmed COVID-19 in recovery bays. To ensure the staffing level for occupational therapists (OTs) remained sufficient, respiratory OTs underwent training in trauma therapy. This also allowed adequate staffing levels to cover for sickness.
Monitoring COVID-19 status on the wards
We constantly monitored how many coronavirus patients we had on the ward, both preoperatively and postoperatively. We stratified the patients mainly into four groups: 1. Positive; 2. Suspected awaiting swabs (ie symptomatic); 3. Not suspected (ie asymptomatic); 4. Negative. The status included the date that symptoms started and the date of any swabs taken.
PPE on wards and in theatres
Personal protective equipment (PPE) was used in line with the BOA guidelines. Orthopaedic surgery is considered an aerosol generating procedure (APG) when high-speed devices are used. The theatre team were required to wear a filtering facepiece mask if the procedure was deemed to be an APG.
Training was provided to ensure competency and to answer any questions. Staff members on the ward were supplied with the appropriate equipment in line with the Public Health England guidance. Anaesthetic management pathways were drawn to ensure all team members knew their roles, and rigorous training was provided to deal with a patient who could be potentially COVID-positive.
This training consisted of a two-hour workshop explaining the different types of PPE available and the trust guidelines regarding the use of PPE. This workshop also included a mock 'donning' and 'doffing' station to train staff appropriately. Initially, a decision was made to maximise the safety of the teams and regional anaesthetic was recognised as the default anaesthetic, as this avoids any need to intubate the patient. However, as we got used to donning and doffing of our PPE, and PPE became more readily available, anaesthetic colleagues started using general anaesthetic as needed, especially for patients with dementia.
Setting up virtual clinics
Virtual clinics were organised to continue the provision of outpatient care. Patients would have a consultation via a telephone call with a registrar or consultant. They were able to send in photos of their wound to be reviewed. The only patients asked to come to the clinic in person were those with a wound infection or those in a plaster cast. In line with national guidance, it was important to minimise non-essential patient contact. Where possible, patients were given back slabs instead of full casts, which could be removed easily in the community. The number of staff on a ward round was reduced, typically to one consultant, registrar, senior house officer, and nurse in charge. Appropriate distance was kept from the patient, and only one member of the team approached to examine the patient when necessary.
Keeping up staff morale
It was identified early on that strategies would have to be put in place to maintain staff morale. The pre-assessment clinic area was repurposed to help with mental well-being, allowing individuals to use the space for rest, or to complete work and not be disturbed. Members of the orthopaedic team volunteered to be contacts for support, to listen to concerns or even just for a talk. Our colleagues took full advantage of this, and it allowed everyone to have a voice while suggesting improvements to daily work routines. A separate well-being area was developed for all staff members, where teams were provided with reclined seating, hot drinks, breakfast, lunch and dinner.
Above all, we are ensuring to look after each other, maintain safe distancing and work towards delivering a common goal as one big team.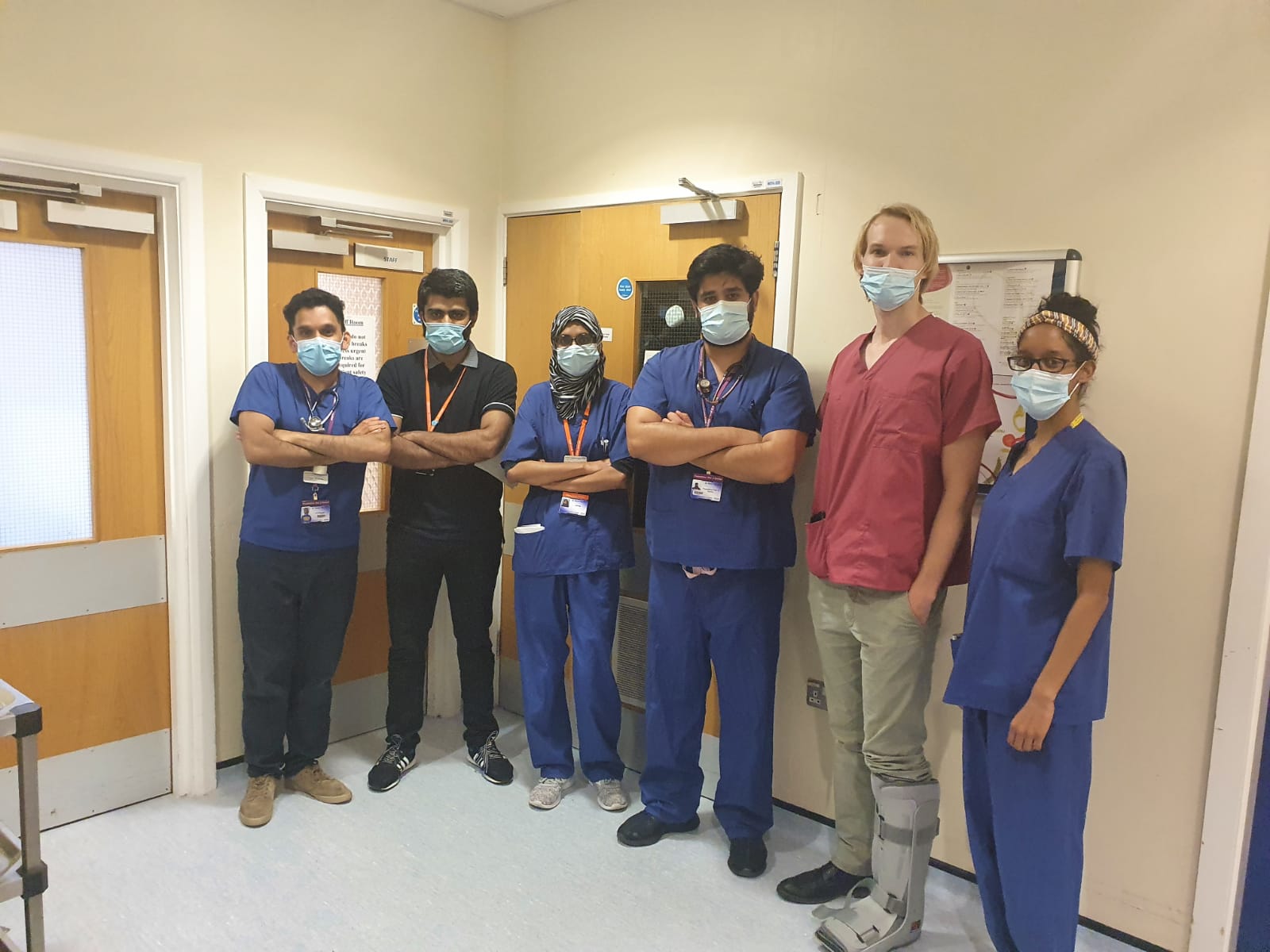 Mr Nikhil Nanavati and Dr Nirav Vyas with their orthopaedic colleagues.
---
This blog is from our series COVID-19: views from the NHS frontline. If you would like to write a blog for us, please contact content@rcseng.ac.uk.