Winter pressures - what's happening in surgery?
12 Jan 2017
Miss Clare Marx, President of the Royal College of Surgeons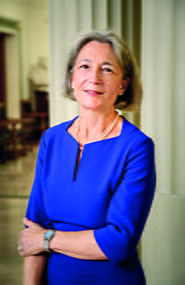 This winter has already demonstrated the enormous pressures in the NHS across the UK. For most of us it seems it is the worst we have experienced in our working lives. Overnight bed occupancy rates are at the highest level for 16 years and all the RCS surgical specialties are now missing the 18-week target in England.

Much of the attention has been given by the media to A&E but every part of the NHS is under pressure. It's not just patients who are affected but also staff, including doctors' training opportunities. Amid talk of a crisis in the NHS, on behalf of the whole RCS Council, I want to thank members, for your relentless hard work as you strive to maintain and improve patient care.

The greatest impact in surgery of the winter pressures has been on elective care. NHS Improvement instructed Trusts in England to cancel most inpatient elective activity over the Christmas and New Year period, focussing instead on emergency activity and reducing bed occupancy. Similar decisions have been made in Wales and Northern Ireland. Elective activity was expected to pick up this week, but I know for many hospitals this has not happened with cancellations widespread.

To gain a snapshot of the situation across the UK, we want to know how winter pressures are affecting elective surgical care at your hospital. We have put together a very short survey which I would be very grateful if you could complete by Monday 16 January. Take the winter pressures survey

We know that too many patients are being cared for in the wrong environment in acute surgical wards in the absence of appropriate alternatives. This is adversely affecting the ability of surgeons to deliver timely and essential surgery. Lack of access to ITU and appropriate step down facilities is equally troubling. As the College continues to speak truth to power about the need for additional resources for the NHS and social care, we will also focus on the specific needs for surgery and that is why we need your help to collect your experiences.

We know that a sustained increase in funding is only one part of the solution, but an important part. We welcome that the Government has begun a review of long-term social care funding and I now firmly believe that an independent cross-party Commission is also required to undertake a similar review for the NHS. For the sake of patients this long overdue debate with the public has to happen now. Without a serious look at what the NHS needs it will remain like the fictional world of Narnia: in a state of constant winter. 
---
 Join the discussion
Add your comments to the site using Disqus.
Sign up below by adding a name, email address and password (click on the Discussion box to reveal the 'Name' field). Or log in using your social media profile.
After signing up, you can start commenting and won't have to log in to Disqus again - you don't even need to log in to your RCS account.