Lord Darzi on surgery and the future of the NHS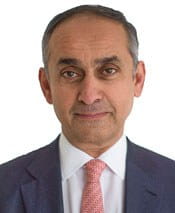 Amid the concern about the future of the NHS one point is worth emphasising. The current standard of health care provided in the UK is the best it has ever been.

The achievements are listed in the first paragraph of Simon Stevens' Five Year Forward View. Cancer survival is the highest ever, heart disease deaths are sharply down, waiting lists are shorter, public satisfaction higher. Of all this you and everyone else who works in the NHS should be proud.
I have dedicated my career to improving the quality of care for patients. It is what drives me and my colleagues. But, as the financial and demand pressures mount, these achievements are now under serious threat. The NHS is entering the most challenging period in its history and it is vital that quality of care, above all, is maintained and improved.
That applies especially to surgery. It is now widely accepted that in providing specialised treatment to the most seriously ill, there is a strong relationship between the number of patients treated and the quality of care.
Concentrating specialised surgery in fewer, larger units means not only that clinicians gain greater experience but also that they have access to costly specialised facilities and equipment, can provide comprehensive consultant cover and there is greater standardisation of care.
It was for these reasons that when I was in office, I recommended consolidating London's 32 stroke units into eight specialist ones in my report "A Framework for Action" published in 2007. That led to a 17 per cent reduction in mortality and a 7 per cent reduction in patient length of stay.
There is good evidence that similar gains could be achieved in most areas of specialised surgery. For example, in my own specialty of colorectal surgery, Denmark cut by two thirds the number of centres providing it and improved post-operative mortality by 62 per cent over two years. In Germany, high volume centres treating prostate cancer have been found to have the fewest complications.
In the UK, the South West London Elective Orthopaedic Centre performed over 3,200 joint replacements in 2013-14, has grown to become the largest such facility in the UK and has lower post-operative complications than many hospitals with smaller workloads. It also has shorter length of stay and has had no episodes of MRSA cross contamination.

These examples are set out in the Five Year Forward View and I support NHS England's plan to undertake a three year programme of rolling reviews, working with local partners to drive consolidations. It is the way to a safer service.
The financial challenge brings pressure on budgets, and the immense task of finding £22 billion of efficiency savings for the NHS by 2020. Surgery will be expected to make its contribution.
Here, I believe there is scope to make more use of other members of the clinical team through task shifting. High quality care does not mean care only delivered by surgeons. Properly trained nurses and surgical care practitioners can provide care of equal quality in areas such as diagnostic endoscopy.
The enhanced recovery programme, involving improved pre-operative assessment, local anaesthesia, minimally invasive surgical technique, effective pain relief and early mobilisation can improve outcomes and increase productivity and needs to be disseminated more widely.
In some cases we should question the need for surgery. PROMs data shows that less than half (49.4 per cent) of patients having groin hernia repair reported an improvement in their condition compared with 95.8 per cent of patients having hip replacements. Do all hernias need repair? Probably not.
Efficiency in and beyond the operating theatre can also be improved, for example by revisiting dual theatres for consultants and by better use of technology post-operatively. We need to consider what role surgeons can play in prevention and promoting public health. Finally, we should examine whether our training is efficient and fit for purpose.
By working innovatively in ways such as this, we can expect real gains in access, quality and productivity. As the Forward View says, these advances are likely to deliver more than the blockbuster silver bullets – breakthrough treatments and diagnostic technologies - whose number is inevitably limited.
But it will require collaborative working in which staff, technology and funding are all aligned. We have not been good at this in the past. The new proposals for test bed sites alongside Academic Health Science Networks and Centres and for an expansion of NHS operational research to provide more rigorous ways of answering questions about health services re-design are therefore welcome. There is much to be done – but also much we can do.
Lord Darzi is director of the Institute of Global Health Innovation at Imperial College London. He was a Labour health minister from 2007-9.