Surgeon Professor Harold Ellis, who joined the NHS in its first month, reflects on 70 years of the NHS
05 Jul 2018
Professor Harold Ellis
Professor Harold Ellis CBE FRCS, who began working as a surgeon 70 years ago, looks back at how the NHS has evolved since its creation.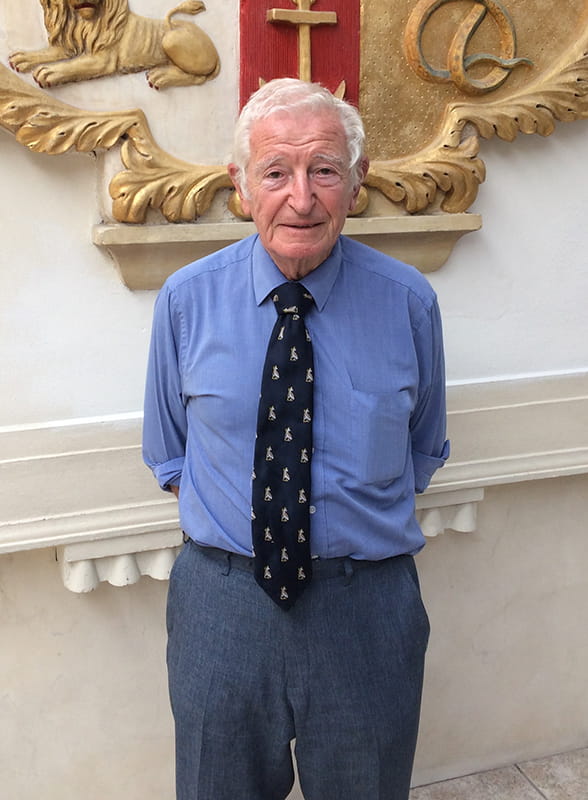 Seventy years ago today Aneurin Bevan launched the National Health Service at Park Hospital in Manchester (now Trafford General Hospital) – offering a system of healthcare for all, which would be funded by taxation, and free at the point of use.

For Professor Harold Ellis, a former Vice President of the Royal College of Surgeons, today's celebrations also mark the start of his long and distinguished career as a general surgeon and professor of clinical anatomy.

Fresh-faced from Oxford University, he had just returned from a holiday in France with his parents when he went to work at the Radcliffe Hospital in Oxford as a house surgeon, in July 1948.

"The funny thing is that there were no flags, or big notices to say that it was now an NHS hospital, the nurses didn't even have new badges," Professor Ellis, who is 92, recalls.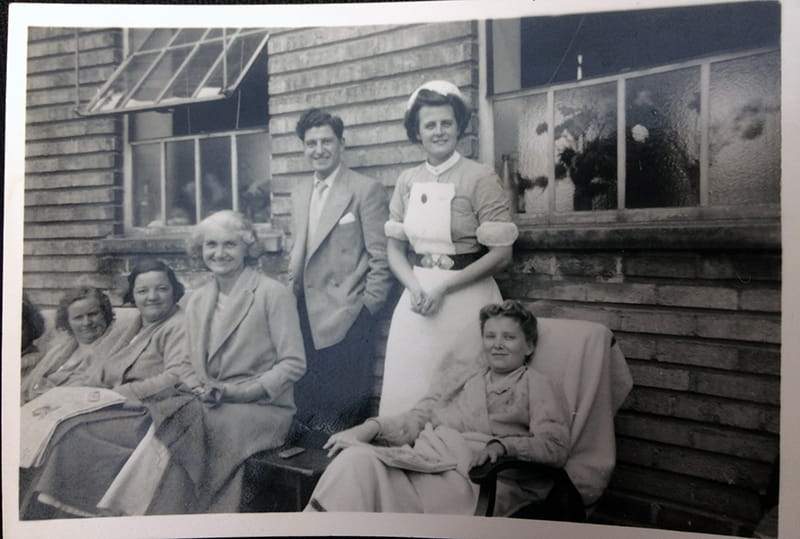 Image: Prof Harold Ellis with surgical patients at the Radcliffe Hospital in 1948. Copyright Professor Harold Ellis.
He does, however, have a distinct memory of the pre-NHS days and the banners that hung from what is now the Royal London Hospital, on collection or fundraising days, asking for donations.

"Hospitals were dependent on the population around them for donations, so you can imagine what it was like in poorer areas," he said.

He also remembers how, as a medical student, the almoner would bustle up and down the ward collecting a contribution from patients for their treatment.

Born in Stepney Green in 1926, he was the youngest of four children and his parents were both dress makers.

"My mother always said she didn't think much of my stitching!" Prof Ellis joked.

He attended St Olave's Grammar School and won a scholarship to read medicine at Oxford. He then worked at the Radcliffe Hospital in Oxford, before undertaking his two-year military service - treating soldiers injured in the Korean War who had spinal and head injuries. It was during this time that he studied for, and was awarded, the Fellowship of the Royal College of Surgeons (FRCS). He continued his career as a surgical registrar, working at hospitals in London, Sheffield and the Radcliffe in Oxford again.

He took up the post of foundation professor at a newly opened surgical unit at Westminster Hospital until he retired from practice in 1989. He then went to teach anatomy at Cambridge University from 1989-1993, before moving onto teach clinical anatomy at Guy's and St Thomas' Hospital. He is also the author of the textbook Clinical Anatomy which is now in its 13th edition.

For Professor Ellis, the NHS embodies the advancements there have been in medicine.

"During my lifetime diseases have disappeared from the general population and there have been huge advancements in treatments," he said.

He was afraid of catching polio as a medical student but was confident he had developed some kind of immunity to TB from growing up in the East End. Among the tremendous surgical advancements he counts during the course of the NHS's history is surgery for babies who are born with heart disease.

"When I began my career, they were referred to as 'blue babies' from a lack of oxygen and there was nothing we could do for them. Today children born with congenital heart disease can have life-saving and enhancing surgery."
Image: Prof Harold Ellis with two colleagues at the Radcliffe Hospital, Oxford. Copyright Professor Harold Ellis.
He also counts transplant surgery as among the NHS's greatest achievements, along with arterial reconstructive surgery which now means most patients with vascular disease can avoid having their leg amputated. While the invention of surgery for joint replacements have given patients with arthritics hips an opportunity to have a pain-free, mobile life again. The advancements in cancer treatment have also been astounding, enabling people to live much longer.

New diseases have emerged - for example, treatment for obesity was not something that occurred when he began his career.

"If you look at the photos of the population after the war, people were very thin. Through the whole of my surgical career we did not do gastric reductions or bariatric surgery."

Overall, however, he thinks the population is healthier and better informed about their symptoms with access to the internet and search engines.

If he could shape the future of the NHS, what would he like to see?

"More money for the NHS – I'm not a politician and I don't mind where it comes from but each of these wonderful advancements costs a lot of money.

"I'd also bolster GP services, I think they have suffered a lot in recent years.

"And I'd like to see a return to the firm structure, where consultants and their teams working in hospitals know their patients and there is a continuity of patient care."
---