Cycling for surgical research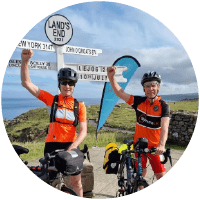 02 Sep 2021
Tim Mitchell and Sue Hill
16 days. 1,030 miles. One puncture. One new back wheel. One new brake disc and pads.

These are the statistics of our COVID-19 delayed cycle ride from Land's End to John O' Groats, completed in July 2021 by two ageing amateur cyclists. Why such madness? Most importantly, as current and former Vice Presidents of The Royal College of Surgeons of England, to raise funds – £21k to date – to be split between RCS England's Surgical Research Fund and Myeloma UK, in support of our colleague and recently demitted Council member, Scarlett McNally, who has received treatment for multiple myeloma.

When we first decided to take on this challenge in early 2019, we recognised that it would be a test of physical endurance and would require significant training to improve our fitness levels and stamina. So, from the summer of 2019 onwards, we started cycling regularly by commuting to work and taking part in a number of organised cycling events. We had planned to do the trip in April 2020, but our plans were, of course, scuppered by COVID-19, before we were able to set off in July 2021, giving us more time for training and fundraising.

But the real story is the human interaction and community spirit so cruelly denied during this pandemic. On our journey we made plenty of new friends, including the 'Cycling Vicars' from Hampshire on their tandem, unprompted donations from strangers in a pub in St Austell, the square in Monmouth and a field in the Forest of Bowland, as we carried our bikes over a fence and a gate to bypass a road closure.

We received fantastic support from friends and colleagues, and our journey across the UK allowed us to meet with them in person – in many cases for the first time since the pandemic. Zarina Shaikh provided superb support in Cornwall and Devon, seeing us off from Land's End and helping to raise over £1,100. Day one saw us meet up with our President, Neil Mortensen, for welcome re-hydration after struggling red-faced up the steep hill from King Harry Ferry. We were pleased to have the opportunity to meet up with Pragnesh Bhatt, RCS England Regional Director for Scotland, during our overnight stop in Glasgow before we were joined by Scarlett McNally in Thurso for the final leg to John O'Groats.

George Mallory famously climbed Everest 'because it's there' and cycling from Land's End to John O'Groats was our horizontal Everest – although recalling the steep hill from Broadhembury in Devon and the 15-mile climb out of Fort Augustus, perhaps not exactly horizontal! However, even such an ambitious enterprise can be achieved with proper preparation.

Did we enjoy it? Would we do it again? Would we encourage someone else to do it? Yes, yes and yes! We would encourage everyone to take part in fundraising for RCS England and the Surgical Research Fund. As experienced and dedicated surgeons, we have first-hand experience of the impact that surgical research can have upon people's lives. Most of us know a family member or friend whose life has been saved or dramatically improved due to modern surgery, and this is the cause we dedicate our lives to, every day when we go to work.

If you would like to get involved in fundraising for RCS England check out our running events. If you have ideas for your own fundraising activity please do get in touch to see how we can help support you. You can find out more about Tim and Sue's cycle across the UK and donate here.