Making the best of Brexit for the NHS
21 Jul 2016
Clare Marx, President of the Royal College of Surgeons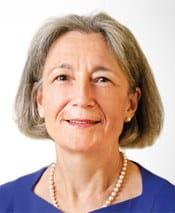 Change, challenges, setbacks, and advances are the hallmarks of modern medical careers. We can either let "Brexit" type moments consume us, whispering from the sidelines, or show the leadership necessary to deal with the uncertainty which now confronts us.

It is in this latter spirit that I believe the NHS must respond to leaving the European Union.

Maintaining and enticing staff to work here has to be a top priority. Over 40% of surgeons trained outside of the UK. Attracting and training more UK graduates is clearly important but losing our non-UK colleagues would be cataclysmic. Within surgical teams are the thousands of technicians, porters, and cleaners who have moved to the UK to serve our NHS. Toughened migration rules often particularly affect such groups of workers and we must send a clear message to the Government that the NHS also needs to retain these vital staff.
While securing our workforce, I believe there are areas where we now have the potential to improve patient safety. Along with all EU countries the UK has been required to accept the lowest common denominator of standards across Europe. For example, under current medical device legislation it is possible for some devices to find their way into the UK having been approved in European countries with lower safety standards. There is an opportunity now to toughen those laws. However, by removing ourselves from such European legislation we may risk slowing the entry of new devices to the UK market so we have to work harder to attract international innovators in healthcare.
Language testing rules should also be prioritised for change. Since 2014 the GMC has been able to ask applicants from the EU to demonstrate their English language proficiency before being given a licence to practise in the UK. According to recent figures, the GMC has prevented 1,000 doctors from practising due to poor English language proficiency. The GMC can and does require doctors from the rest of the world to demonstrate their language proficiency in a clinical context before allowing them to practice. However, currently the test for EU applicants only asks candidates to demonstrate their broad language skills and cannot insist on how this is done. We would like to see the same rules applied to all applicants from outside the UK.
Surgeons have had long standing concerns about the impact of the European Working Time Directive (EWTD) on time for training. In 2014 the EWTD taskforce concluded that we need greater flexibility for training hours while ensuring we never go back to a culture of excessive working hours that can only harm patient care. The Association of Surgeons in Training have suggested that the EWTD should be slightly relaxed to a maximum of 56 hours a week. It is also important to stress that EWTD is not the only problem with training – there are many broader issues that need to be addressed.
The significant research programmes that cross the European health and medical research communities will need supporting and protecting. We need to have sustained funding, mobility of researchers and clinicians, as well as regulations and policies to ensure the UK research community is able to thrive and advance patient care.
Theresa May has been clear that 'Brexit means Brexit'. Clinicians are trained to work with uncertainty and find solutions. As we prepare to leave the EU we must find ways of making the best of Brexit for the sake of our patients and hard-working NHS staff.
This blog was originally published on The BMJ's blog site.