Negotiation not imposition
29 Sep 2015
Miss Clare Marx, President of the Royal College of Surgeons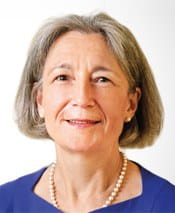 Following the events over the past week, I am pleased there has been an approach from government to the BMA Junior Doctors' Committee, to restart talks about the junior doctors' contract. I, and the senior leadership of the RCS, have been very clear that imposing a contract was not the best way forward.

Whatever the outcome of an initial meeting, the government, NHS Employers, and the Junior Doctors' Committee must find a way to break the current impasse. Trainees are a fundamental part of the present and future of the NHS and we are clear that any new contract must address:
The recognition of the fundamental contribution trainees make in delivering a safe and high quality NHS and the particular need for work life balance in specialties which cover 24/7.
The imbalance of the current contract as many trainees, particularly in specialties where there is high intensity work patterns, cannot access training opportunities due to an over reliance on service needs.
Recognition of relevant transferable skills, clinical or academic in any assessment of seniority.
As a College our primary aim is to advance surgical care. Junior doctors are vital to that aim, and it is essential that they have the right opportunity and environment in which to train and succeed as capable and caring surgeons. We also hold an important function as an influencer of health policy at the highest levels nationally; in a crowded field, it is vital to our aim that we are not just listened to, but that our opinions are actively solicited. While we strongly support the majority of the views expressed in the letter recently signed by many colleges, it is our role to comment on how trainees may best be supported, but not on detailed issues of pay.
We recognise the anger and frustration trainee doctors feel about the possibility of a contract, which they think is unfair, being imposed on them. We are a membership body, but we are not a trade union. For those reasons we have been careful in the way we have put our message across, but unequivocal in our stance to ministers as well as the BMA: to seek to impose a contract is fundamentally wrong.
Doctors in training are a vital part of the NHS. The senior leadership of the NHS and the government can and must do more to value all NHS staff, particularly at this time with huge financial pressures facing the service. As President of the College, I will continue to seek every opportunity to persuade the government and NHS Employers to find a way forward with the BMA and the Junior Doctors' Committee, that reflects the importance of trainee doctor workforce.
If there are issues or concerns that we can support you with please do contact me at president@rcseng.ac.uk.
Miss Clare Marx, President of The Royal College of Surgeons of England