Paradigm shift and hypervigilance
27 May 2020
Mr Tim Mitchell
Mr Tim Mitchell is an RCS Council Member and newly elected RCS Vice President. He was appointed as a Consultant Otolaryngologist at University Hospital Southampton in 2000, and has a subspecialty interest in cochlear and other auditory implants with the University of Southampton Auditory Implant Service. In this blog series, Tim discusses how the COVID-19 pandemic could alter medical practice indefinitely.
The world has changed. Perhaps temporarily, but possibly forever.
Last year, I celebrated the 30th anniversary of my qualification as a doctor. For the preceding three decades, nineteen years as a consultant, the focus of my attention had been the wellbeing of the patients under my care. I endured the long periods of duty in hospital as a junior doctor, repeatedly staying well beyond my contracted hours, ensuring adequate handover, missing social engagements on occasions, trying to be the best doctor and surgeon that I could, because ultimately at the endpoint of my endeavours was a patient. Patients came first.
It is true that sometimes the individual patient's interests were superseded by those of all the patients under our care. Patients colonised with MRSA were subject to the strictures of isolation and barrier nursing, in order to protect vulnerable patients elsewhere in the hospital. Doctors and other healthcare workers were identified as potential vectors for transmission of infection. Staff were required to be bare below the elbow, ties were discarded or tucked in, and handwashing became subject to regular audit.
HIV and AIDS in the 1980s focused the mind on the risk to healthcare workers, especially those undertaking invasive procedures, of contracting a blood-borne infection through their work. After initial enthusiasm for special precautions, such as double gloving, for known cases and individuals from high-risk groups, it soon became clear that the majority of HIV-positive patients would undergo treatment without their status being known. Universal precautions became the norm.
The developing crisis, emanating from China at the end of 2019 and rapidly becoming a global pandemic, soon taught us that those treating patients infected with COVID-19 could contract the disease from their patients resulting in severe illness and risk of death.
When healthcare resources are being stretched, and in some places overwhelmed, we once again had to consider how to keep doctors, nurses and other healthcare workers safe while they treat and look after the wellbeing of patients. Many selfless individuals have signed up to devote their lives to looking after others, but not to give up their lives in doing so. This has been a game changer, a paradigm shift.
We are still in the relatively early stages of this drama. There is much to learn about this invisible adversary, but we can draw parallels and learn lessons from Ebola, a more deadly, but less contagious virus that has raised similar issues albeit in a more limited geographical distribution.
Appropriate personal protective equipment (PPE) is essential during patient contact in order to prevent healthcare workers from becoming infected. We are only just starting to understand what this might mean for COVID-19 in different clinical scenarios and during interventions. It appears that many countries were underprepared for the arrival and rapid spread of the virus. As a consequence, there was only limited provision of PPE on the frontline. Doctors and nurses have been faced with the dilemma of how to act when PPE is lacking.
It is critical to have rapid identification and separation of potentially infected cases, but also to recognise that not all patients presenting with typical symptoms will have the disease and that many infected individuals will be asymptomatic. We may need to move rapidly to universal precautions, as with blood-borne infections, if COVID-19 remains endemic.
We have to acknowledge that many of our medical establishments are not well suited to managing this problem. Our hospitals have multiple entry points through which patients and staff move freely, with little opportunity to prevent cross-contamination. Most GP surgeries are even less fit for purpose. We need to consider reconfiguring healthcare facilities ensuring greater control over staff and patient flow. This is likely to require staff and patients having access by separate entrances and exits. This will reduce the chance of transmission from infectious patients to other patients, visitors and staff. Ebola hospitals will be useful models.
The realisation that we are surrounded by and wearing potential fomites on which viruses can survive for hours or days makes it sensible to move beyond the current dress code requirements. Staff should change into appropriate uniform, such as theatre clothes, in a clean area on arrival and have facilities for showering before they change to go home. There will be less individual variation (which may not be a bad thing) as we dress like our European and North American colleagues.
The concept that transmission of COVID-19 can be prevented, or at least slowed by social isolation and distancing, may have lasting effects. These newly introduced measures feed anxiety because they are alien to our established behavioural norms. Every incursion upon our two-metre exclusion zone, every surreptitious cough raises the tension further. We have started viewing others with suspicion as though they were a Cold War informer in an Eastern bloc regime. We regard all through the perspective of a state of arousal and hypervigilance.
This pandemic, like bubonic plague and Spanish influenza before it, will die down. The restrictions will be lifted and fear will subside. Life will return to normal but just as those previous pandemics did many years ago, COVID-19 will leave its mark forever.
'Many selfless individuals have signed up to devote their lives to looking after others.'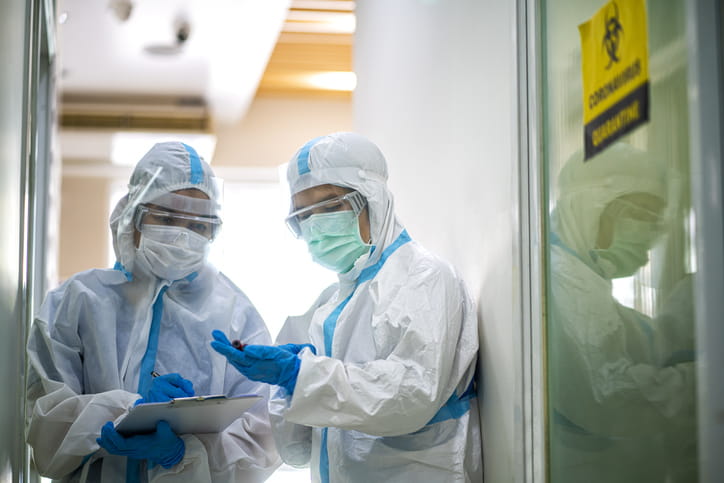 ---
This blog is from our series COVID-19: views from the NHS frontline. If you would like to write a blog for us, please contact content@rcseng.ac.uk.