SAS careers
Over the last 15 years, SAS conditions of employment have been put on a firmer footing, supported by the SAS Charter to drive workplace development for these doctors and dentists.
Prior to 2008, SAS doctors were appointed to staff grade or associate specialist posts. Since 2008 these grades have been closed to new entrants, with all new SAS doctor appointments being specialty doctors (NHS careers).
The 2008 contract heralded substantial change: as well as introducing a new specialty doctor grade, it also put in place national terms and conditions covering everything from entry criteria to the grade, job planning and pay progression.
In 2021, the specialist grade doctor was introduced for doctors able to manage the full range of presentations in their specific area of practice – see below for a summary of the difference between specialty doctors and specialist grade doctors in terms of entry requirements. This grade came with an explicit expectation that these doctors will have further development opportunities such as management, additional responsibilities, research, and clinical academia.
Check out our new pages for SAS surgeons.
What's the difference between a specialty doctor and a specialist grade doctor?
Specialty doctor
The specialty doctor grade was introduced in April 2008. The entry criteria are set out in Schedule 1 of the specialty doctor terms and conditions of service.
A doctor appointed to this grade shall have completed at least four years' full-time postgraduate training (or its equivalent gained on a part-time or flexible basis), at least two of which will be in a specialty training programme in a relevant specialty or as a fixed term trainee in a relevant specialty; or shall have equivalent experience and competencies.
The same entry requirements apply to dentists.
Specialist grade doctor
The specialist grade was introduced in April 2021 to offer career progression for specialty doctors. Specialist grade doctors provide expertise in a specialised area (a specific specialty or a generalist service) and can manage the full range of presentations in their specific area of practice. The entry criteria to the specialist grade are set out in Schedule 1 of the specialist grade terms and conditions of service.
A doctor appointed to this grade shall have completed a minimum of twelve years' (ten years in Scotland) medical work (either continuous period or in aggregate) since obtaining a primary medical qualification, of which a minimum of six years (five years in Scotland) should have been in a relevant specialty in the Specialty Doctor and/or closed SAS grades.
Equivalent years' experience in a relevant specialty from other medical grades including from overseas will also be accepted. They must also meet the requirements of a Specialist grade generic capabilities framework. There are equivalent entry retirements for dentists seeking appointed to this grade.
Specialist grades are expected to focus mainly on providing direct clinical care but will also have further development opportunities such as management, additional responsibilities, research, and clinical academia (NHS careers).
Who are locally employed (LE) doctors?
Locally employed doctors
As the title suggests, LE doctors are employed locally by a healthcare organisation on a local contract, often for a non-permanent post. The terminology for LE doctor posts is diverse and can include: clinical fellows (FT3 level and ST5 - 8 Level), trust grade registrars, trust grade associate specialists. Unlike SAS doctors, they do not have nationally agreed terms and conditions. Many have recently completed their foundation training and will return to formal training, and some may move on to a SAS contract in the future (GMC, 2020); others are senior doctors employed in senior roles. Like SAS doctors, LE doctors are not on the General Medical Council (GMC) GP or specialist registers and are not in national training programmes, and they are similarly diverse in terms of their experience and skills.
SAS and locally employed (LE) doctors
There has been a growing awareness that SAS doctors have lacked the recognition they deserve, with poor structures for support and few opportunities to engage in professional and career development. Unacceptably high numbers of SAS doctors have reported being bullied, undermined or harassed in the workplace.
The health service relies heavily on SAS and LE doctors.
The SAS and LE doctors group has grown by 40% – almost six times the rate of GPs in the last five years and a little under four times the rate of specialists.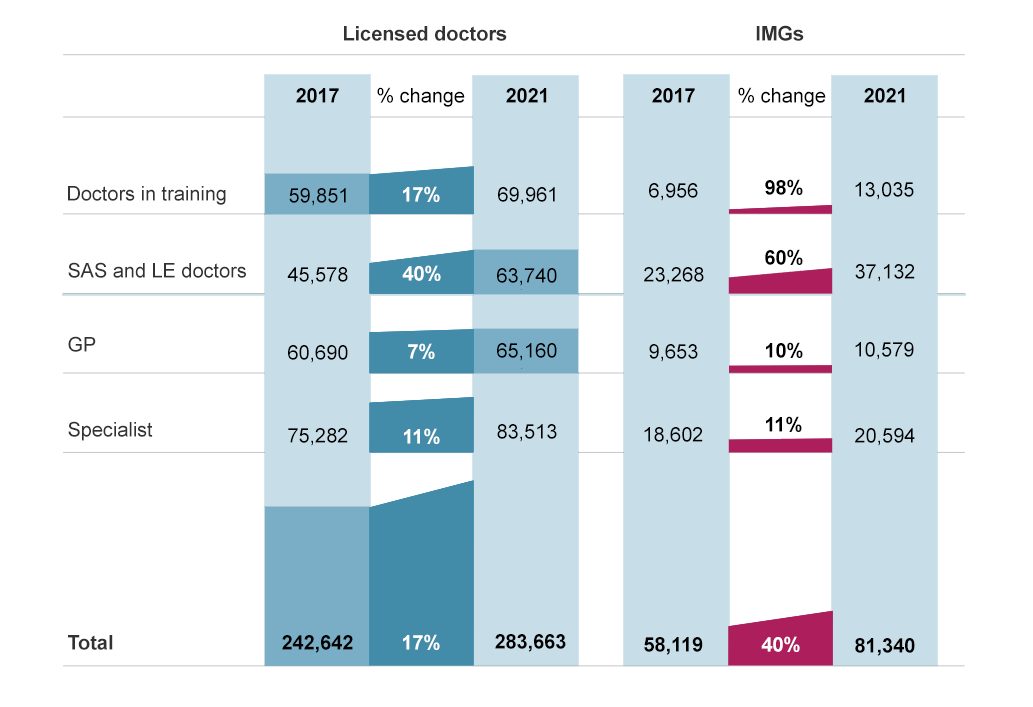 Graph 1. From GMC workforce report 2022
This reliance is set to grow.
If the trends from the last five years continue, by 2030 SAS and LE doctors will have become the largest group on the GMC register.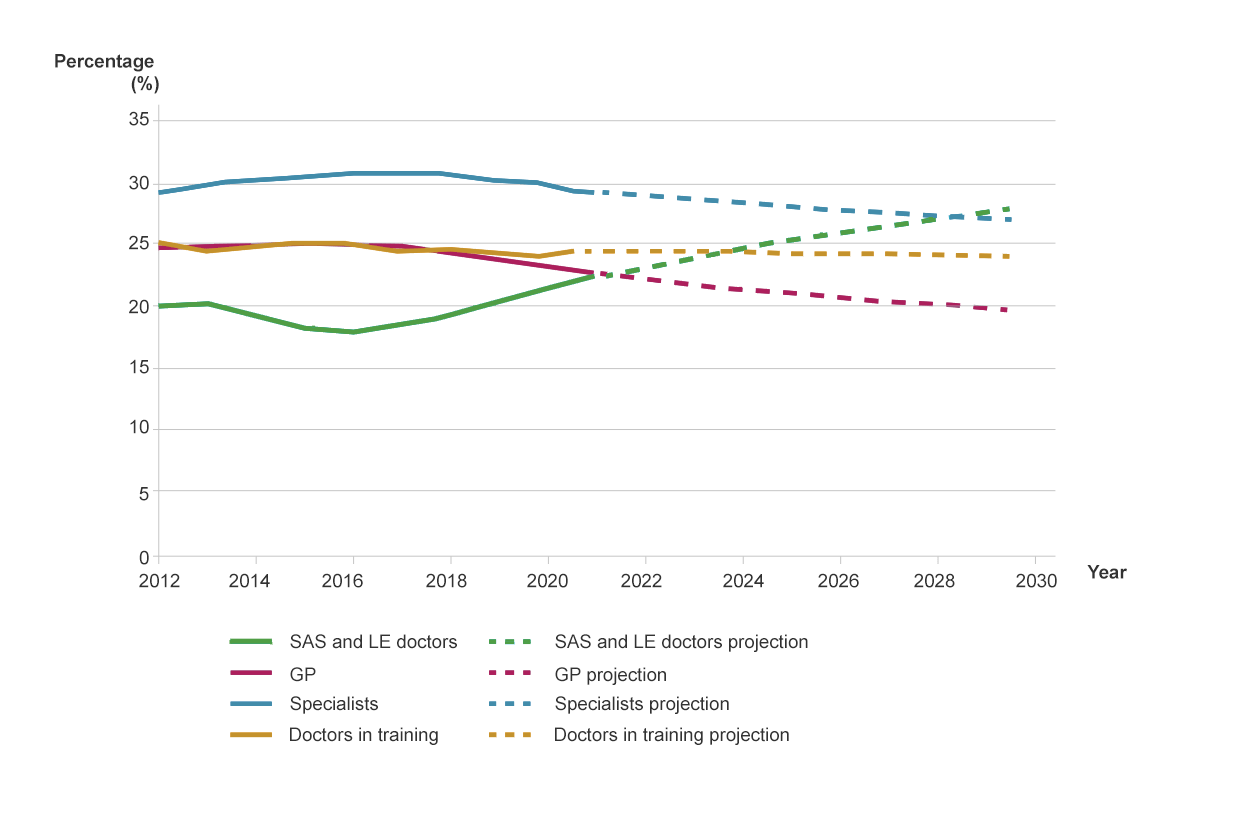 Graph 2. From GMC workforce report 2022
The following figures from the GMC workforce report outline information on SAS and LE doctors:
In 2021, 61,040 licensed SAS and LE doctors on the medical register
More likely to be male (56.2%)
Largest recorded ethnicity group, Asian or Asian British (38.7%), followed by white (31.2%)
More than half (58.7%) completed PMQ oversees and classified as IMG
Over half (53%) of those who began work as an SAS or LE doctor in 2013 had left the UK workforce by 2021 (compared to 9% for GPs)
Non-UK graduates are more likely to leave within six years of joining than those who qualify at UK medical schools
These figures group together SAS and LE doctors, however we know that SAS and LE doctors often have distinct, separate challenges and have different aspirations in terms of career development. The UK medical workforce is growing more quickly in England and Wales, mainly due to the rapidly increasing number of international medical graduates (IMGs) in these countries compared to Northern Ireland and Scotland.
Source: GMC workforce report 2022
Diversity of skills & experiences
The GMC undertook the first UK-wide survey of SAS and LE doctors in 2019 and identified three distinct groups:
Periodic SAS and LEDs – started a training programme and then take a break, predominantly young UK graduates in the early stages of their careers. Female periodic SAS and LE doctors tend to return to training more than males.
Career SAS and LEDs – typically 30-50 years of age, mostly IMGs, never entered a training programme. More career SAS and LEDs are male than female, except for those aged under 35.
Recent SAS and LEDs – registered <3 years and have not entered an approved training programme. Typically IMGs and younger doctors from the EEA.
This led to the GMC to identify three clusters (GMC clustering analysis report, 2021):
Cluster 1 – UK or EEA female graduates, having a favourable experience in roles, and comprise around a third of SAS and LE doctors. In SAS doctors, this group intent to continue in their role. In LE doctors, the majority plan to enter postgraduate UK education.
Cluster 2 – IMGs who are relatively new to UK practice, having a favourable experience, and plan to continue practising in the UK. Around half of SAS and LE doctors belong to this group
Cluster 3 – more experienced IMGs, who are having a very negative experience of UK practice. Although many have applied for a CESR (or the quivalent for GP registration), their future intentions are mixed. There are more SAS doctors in this group around a fifth of the SAS survey population compared to LE doctors.
GMC survey of SAS and LE doctors
SAS
6.8% reported more than 7 years postgraduate medical training
70.6% reported more than 15 years practising clinically
52.8% reported that they had access to an SAS tutor, adviser or equivalent
71.4% had an agreed job plan
80.2% train others as part of their job
30.9% would consider joining a formal training programme in future
25.6% reported they work completely autonomously without supervision (56.7% partially autonomously)
More likely to value a supportive environment, more specialty training and working with greater autonomy
LE doctors
22.8% reported more than 7 years postgraduate medical training
20.8% reported more than 15 years practising clinically
47.6% Trust doctor (e.g. staff doctor, hospital practitioner), 43.7% fellow (e.g. clinical, teaching)
54.5% had an agreed job plan
50.7% train others as part of their job
37.2% would consider joining a formal training programme in future
More likely to value more training related to specialty, a supportive environment, and more CPD opportunities
Note: this data is specific to surgeons, not all SAS doctors. 
Source: RCS England analysis of the GMC data via its online reporting tool (version 1.4 released 7 May 2020)
Country profiles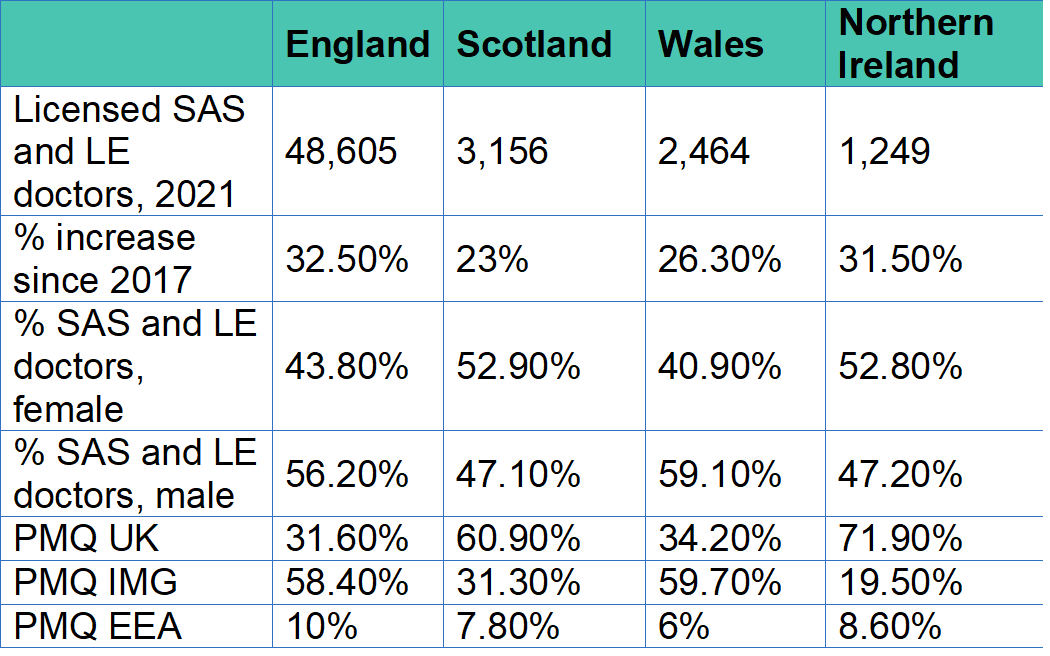 Source: General Medical Council (2020). The state of medical education and practice in the UK: The workforce report 2022.
Persistent issues
Our conversations with SAS doctors, national leaders, medical directors and other representatives raised several themes and persistent issues. Our SAS Strategy aims to address these issues and unlock the potential contribution of our SAS surgical colleagues to the workplace, profession and our College. Ongoing issues include:
Lack of recognition –with poor structures for support and few opportunities for career progression
Lack of parity of esteem with other medical colleagues – 'failed consultant', 'lower status doctor'
Lack of voice – excluded from departmental meetings (consultants only)
Service focus – emphasis on SAS providing service, without any further development ('rota fodder')
Bullying and harassment – SAS doctors have reported being bullied, undermined or harassed, with racism a problem
Locked out of training – no streamlined way to enter the training pathway or for prior training and experience to be recognised
Coding mechanisms –often do not allow for attribution of clinical activities (e.g. clinics or own lists) to SAS doctors, which impacts career progression, application for CESR etc
Confusion over language – tendency to define SAS by what they are not ('non-training grade', 'aren't recognised specialists')
Workforce plans – tendency to focus on consultant workforce and overlook the potential of the SAS workforce
What some SAS surgeons have told us
"No access for teaching or training opportunities. The trust not following the RCS England guide for SAS job planning. No protected theatre time. No access for endoscopy. Not following the SAS charter. No assigned supervisor. Raised concerns regarding theatre time, surgical skills will rust. Raised concerns regarding job planning."
"Not enough support from the Consultants and not structured training - this is a UK problem."
"The persistent attitude towards SAS staff in general is appalling. As a senior and experienced associate specialist, it is disappointing to be regularly referred to and treated as a junior doctor, both by management or other colleagues. To not be invited to any of the managerial or consultants meetings, and not to have out opinions heard or considered in any way."
"As a non trainee we face a lot of challenges to get theatre training and it takes a lot of effort to convince consultants to train me/us. Also, I think it depends on the trust, some trusts treat non trainees better than others! Honestly, I do not think it should be that hard or trust dependant, it should be part of the job plan for every SAS doctor (particularly) if they (are) applying for CESR pathway, we need more support to complete it."
What national leaders have told us
It's sad to say but where we are now is we need recognition, we need reward, we need wellbeing, and we need SAS Advocates. We are getting there, but right now you do as you are told" - Dr Ujjwala Mohite, Chair BMA SAS committee
"We have to help them get on to the specialist register if they want to do that. They shouldn't have their ambitions limited by the grade that they are in." - Professor Pushpinder Mangat, Medical Director, Health Education and Improvement Wales
"There are about 20%, maybe 25%, who want to go back into training or do the CESR route - and we're going to make it less complicated for people to get onto the specialist register...looking at experience rather than equivalence" - Professor Dame Carrie MacEwen, Chair, General Medical Council
"SAS are not empowered. A disadvantaged group cannot speak for itself" - Dr Waleed Arshad, Associate Specialist and Immediate past chair, AoMRCSAS Committee
"I've said to a lot of SAS doctors, your weakness is the lack of a national organisation" - Professor Partha Kar, Medical Director Workforce Race Equality Standards (MWRES)
"A lot of work is still needed to ensure all SAS doctors are systematically job planned and appraised - these are key pillars of the SAS Charter" - Ellie Pattinson, Workforce Lead, NHS Employers
References and further reading
There are more professional development resources at our SAS Hub, where you can read inspiring SAS stories, including the experience of one surgeon who joined the specialist register via CESR application.
A full list of references and further reading can be found on SAS Resources.