Visiting the Library
The Members' Library and Research Room are on the first floor of the building. All visitors should ask for the Members' Library or Research Room at the ground floor reception desk on arrival.
Please contact us at library@rcseng.ac.uk or call +44 (0)20 7869 6555 for further assistance.
Members' Library
The Members' Library provides a comfortable space for study and research for all members and fellows of the College.
The Members' Library is:
Open 10am

–

5pm Monday to Thursday
Closed Friday to Sunday/Bank holidays
On Council days, the Members' Library will be open 9am-6pm
We are also trialling Saturday openings once per month: please see the calendar on Surgical Library.
College members and fellows do not need to book unless you wish to consult materials from the Library and Archives collections. In this case you will need to make an appointment to use the Research Room.
Research Room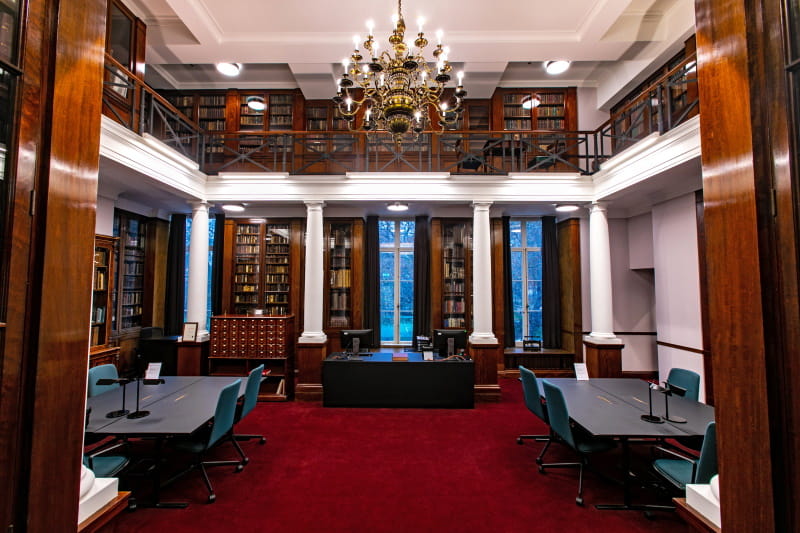 You are welcome to use our collections for your research.
The Research Room is:
Open 10am 

–

5pm Tuesday to Thursday
Closed Friday to Monday/Bank holidays
Please book ahead of your visit by emailing library@rcseng.ac.uk, so that we are able to offer the space and support that you need. Please bring identification with you so that we can register you as a researcher.
Please provide as much information as possible about the material you wish to see so that we can ensure availability. You can search the collections using the catalogue and we are happy to answer any questions about what we hold in the Library.
Using other libraries: SCONUL Access Scheme
Looking for somewhere to study but can't visit the Library in Lincoln's Inn Fields?
The Royal College of Surgeons of England Library participates in the SCONUL Access scheme under Band A. The scheme allows RCS England members and staff to access 177 other participating libraries throughout the UK and Ireland.
Apply for access to other libraries
You can apply for access on the SCONUL website:
Select 'Academic/support staff' as the type of user
Select 'Royal College of Surgeons of England' and click 'Find'
Select the library you wish to access
Click on 'Apply for access'
Complete the 'Library Access Application Form' – please put your RCS England membership number in the field 'Library or ID card number'
Submit
Once you have registered and your application has been approved you will receive an email - print this off and take it, and a valid form of photographic ID, along with you on your first visit to your selected library.
You need to submit only one form to apply for access to all libraries in the SCONUL Access scheme. You do not need to re-apply to access another library. Please check the website of the library you are interested in visiting to see if they require any further information from you such as a passport photograph.
If you have any questions or need any help with the application process please get in touch.
Applying for access to our library
We welcome applications from Band A visitors only. You will need to apply for access through the SCONUL website. Once your application has been approved by your home library, please bring the approval email and your library ID card when you first visit. Please note that we do not provide access to our online resources.
SCONUL Access visitors are strongly advised to book an appointment with the Library of the Royal College of Surgeons of England in advance of their visit. Please email library@rcseng.ac.uk to book an appointment or use our online booking form, choosing 'SCONUL Access Band A' under 'What is the Purpose of your Visit?'
COVID-19 safety precautions
Following advice from the Academy of Royal Medical Colleges to proceed with care, the College is maintaining a prudent approach to COVID-19 for the safety of our visitors and staff.
We recommend that visitors and members undertake a lateral flow test in the 24-48 hours before visiting the College.
On arrival
Please sign in at reception on arrival or log-in using the NHS QR Code and NHS COVID-19 app (other check-in methods available).
During your visit
Wear a face-covering
Clean your hands on arrival and regularly during your visit
Maintain social distancing from others
A desk will have been reserved for each visitor to the Research Room.