Are You Cut Out For It? Surgical Skills Competition
Boost your CV and enter our national competition!
Would you like to take part in a creative competition that encompasses fun and competition as tools for learning? A competition that is free to join with the opportunity to win a cash prize and set your CV apart at ST3 application level? Our Surgical Skills Competition gives you just that. Are You Cut Out For It? is our national Surgical Skills Competition for Core Trainees (CT2s) who are members or affiliate members of the Royal College of Surgeons of England.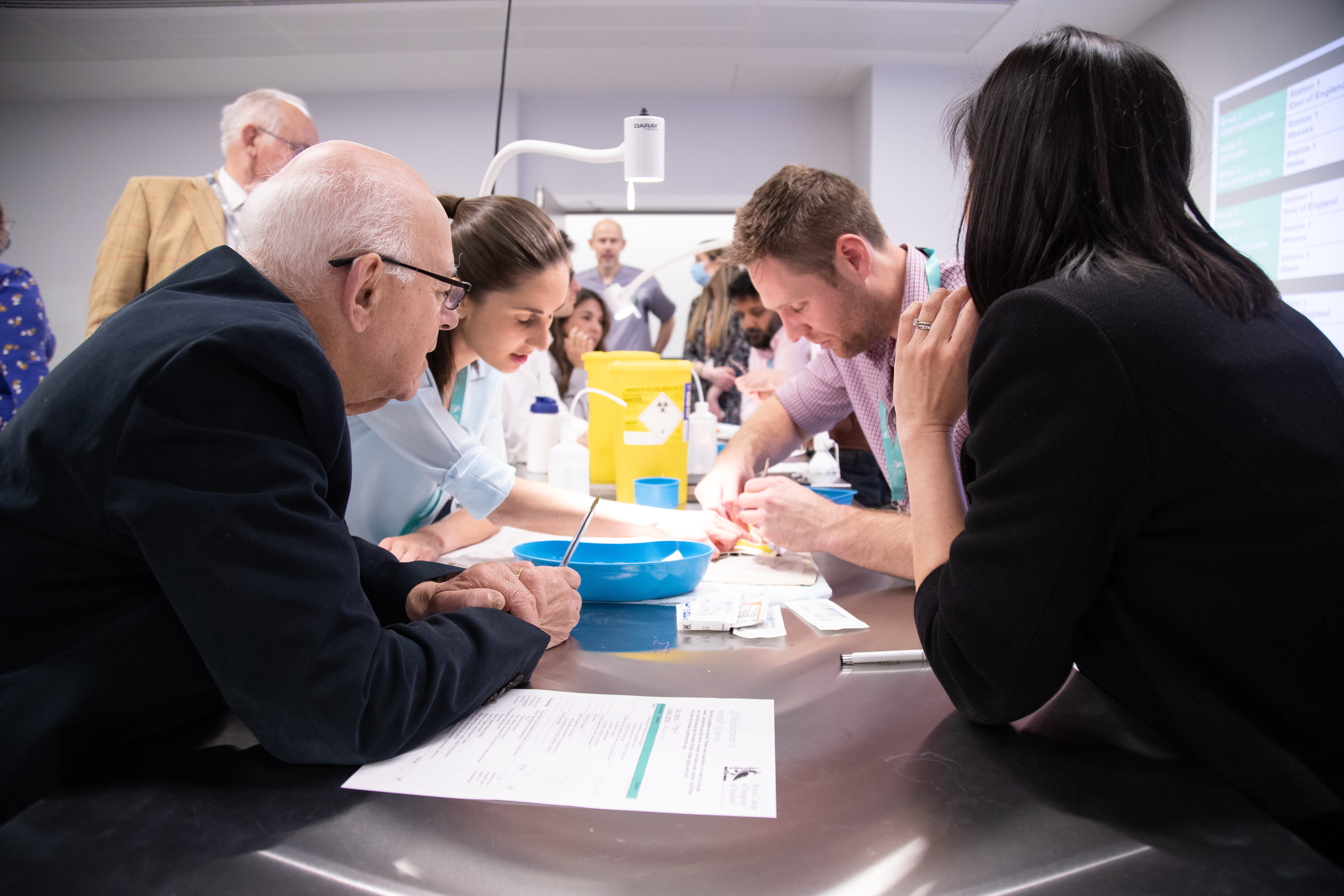 Competitors
Trainees compete in pairs for a chance to win the prestigious Louis Solomon Knights Award for Surgical Skills and a cash prize. Competitors must be in their second year of core training and members or affiliate members of RCS England. If you would like to compete and you are not already a member, please join now.
Although CT1 trainees cannot compete, they can participate by organising their local heat. Certificates for attending, winning and running this competition are approved by RCS England and will be sure to set you apart from your peers.
Winners from each heat will be entered into the final, where they will go head to head with the top competing pairs from the other regions.
Regional heats 2023–24
The heats will be held in person regionally from October 2023 to February 2024. The tasks will aim to assess your surgical skills as well as your knowledge and application of surgical principles. If you would like to volunteer as an organiser for your regional heat, please do contact us. The winners of the local competitions will go on to compete in the national final on Saturday 20 April 2024 at the College in London. We will be hosting regional heats in:
East Midlands: Thursday 23 November at Royal Derby Hospital. Contact Matt Brazkiewicz or Mathew Alok
East of England: Tuesday 13 February at Davidd Dunn Simulation suite, Addenbrookes Hospital (Cambridge). Contact Sreedutt Murali or Ebrahim Patel
KSS: Friday 19 January (following Core Surgery Prize Day) at East Surrey Hospital. Contact Kevin Beatson.
London: Thursday 11 January at Queens Hospital Education Centre (Romford). Contact Marta de Andres Crespo
North East: Tuesday 28 November at The James Cook University Hospital (STRIVE Academic Centre), Contact Lessica Miel Magnaye or Kathryn Bell
North West: Tuesday 28 November at Wythenshawe Hospital (South Manchester). Contact Sue Walsh.
Northern Ireland: Friday 3 November at Kingsbridge Training Academy (Belfast). Contact Claire Jones.
Oxford: Saturday 18 November at John Radcliffe Hospital (George Pickering Education Centre). Contact Ada Krzak, Nicole James or Areeb Mian.
Peninsula: Friday 10 November at Derriford Hospital (Plymouth). Contact Devender Mittapalli.
Scotland
Severn: Monday 27 November at Univeristy Hospital Bristol. Contact Annabel Jones, Vignesh Gopalan or Jad Wehbe.
Wales: Thursday 11 January at Morriston Hospital (Swansea). Contact Tom Borthwick.
Wessex: Friday 8 December at VIMARs, Queen Alexandra Hospital, Portsmouth. Contact Hasnaa Ismail-Koch.
West Midlands: Thursday 4 January at Central Education Centre (Dudley Group NHS Foundation Trust). Contact Michael Wall.
Yorkshire & the Humber: Wednesday 29 November, Technical Skills Lab at Bradford Teaching Hospitals (Dudley). Contact Angus Hall, George Greenlees or Nick Kowal.
If you are interested in organising your School of Surgery heats and are in the East of England, South England, London, or Wales, please contact
OutreachSouth@rcseng.ac.uk
.
If you are interested in organising your School of Surgery heats and are in the North, Midlands, Scotland, or Northern Ireland, please contact
OutreachNorth@rcseng.ac.uk
.
Support
RCS England will offer support to everyone interested in assisting with hosting a regional heat for Are You Cut Out For It? including:
matching up volunteers from within the same region;
providing a guide for how to organise a regional heat;
providing template documents (guidance for competitors, invitation letters, mark schemes, thank you letters);
central promotion for regional heats on the RCS England website and social media.
RCS England may be able to provide some equipment for the skills competition heat. We will also provide all organisers with formal thank you letters for your portfolios.
Volunteer as a judge at our 2023–24 final
We are looking for consultant surgeons to act as judges at the competition final on Saturday 20 April 2024. If you are interested in volunteering then please contact OutreachSouth@rcseng.ac.uk.
Generously supported by: