What does a surgeon do?
Surgery isn't just confined to the operating theatre. Surgeons divide their time between several activities.
Click 

 on our interactive hub below to find out more.
Ward rounds
Daily visits to check on the condition of patients under their care, liaise with nursing staff and colleagues and teach foundation doctors and trainees.
Operating
Working on pre-booked, elective operations or emergency cases. The operating team includes other surgeons, anaesthetists, technicians, nurses and administrators all working together to ensure the best possible care and outcome for patients.
Outpatient clinics
Meeting with patients, family members and/or carers to discuss treatment options and explain procedures. Surgeons will also undertake tests and arrange x-rays and scans to decide if an operation is needed or prepare a patient for the procedure. Surgeons meet with patients again after an operation, to monitor and support their recovery.
Administration
Paperwork is necessary and helps to make sure patients get the right treatment at the right time. Surgeons spend some of their time writing to patients, colleagues and GPs, writing up notes and keeping accurate records. They may also be involved in arranging rotas and filling in paperwork to support trainee surgeons.
Supporting work
Surgeons may take on additional or voluntary roles to support the teaching and development of surgery, for example, teaching at the Royal College of Surgeons, working in admissions or teaching at medical schools.
Research
Surgeons will undertake many forms of research throughout their career; this may either be formal research, such as undertaking a PhD or clinical trials, or more informal such as undertaking departmental audits or individual research to present at a specialist surgical society meeting.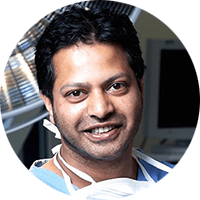 Mr Jake Timothy
Consultant Neurosurgeon at the Leeds Teaching Hospitals NHS Trust
Mr Jake Timothy
Read Jake's Interview
One of the most rewarding experiences I had was developing a spinal surgical service in conjunction with the local surgeons in Bangladesh over the last ten years with little technology. We also ran a basic surgical skills course in Guyana and helped with more complex neurosurgical procedures.Surgery is and will remain a global skill and the surgeon must adapt to his or her surroundings.I was fortunate that I came from a medical family.In 1973 my mother suffered a major brain haemorrhage and nearly died.
That's probably why I went into neurosurgery. Initially I didn't get the grades at A-level and I think I ended up retaking nearly every exam at medical school, but I continued to pursue my goal and finally was appointed a consultant at the same hospital my mother and father worked at many years before. The whole journey has been a lesson to never give upon your aspirations.